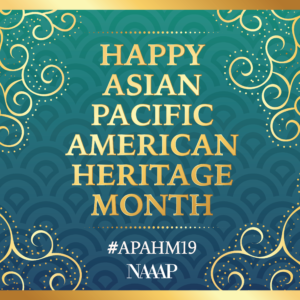 Asian Pacific American Heritage Month
When Asian Pacific Islander Heritage Month (APAHM) was signed into law in 1992, the celebration was scheduled to commence in the month of May. The goal of the event was to commemorate the completion of the transcontinental railroad which was built by the labor of Chinese immigrants. This month also marks the anniversary of the first Japanese immigrants arriving in the United States. After the establishment of the Chinese Exclusion Act industrialists sought out more people willing to do hard labor for unfair payment. Years later in 1992, the month's celebrations were expanded to include Pacific Islander (PI) communities though Reps Frank Horton and Norman Mineta went through the House in California to make the first ten days of May APAHM in 1977.
The term Asian includes persons having lineage to the Far East, Southeast Asia or the Indian Subcontinent. It originates from the Ancient Greek word Ἀσία' for the east bank of the Aegan Sea. The term Pacific Islander encompasses Melanesia, Micronesia, and Polynesia. Melanesia includes nations like New Guinea, Fiji, Papua New Guinea, the Aru Islands, etc. Micronesia is composed of Guam, the Mariana Islands, Palau, Chuuk, and more. And probably the most well-known, Polynesia is composed of the Samoan Islands, French Polynesia, Hawaii, Tonga, etc. It comes from the fact that these countries are all located in the Pacific Ocean.
There are many differences between Asian and Pacific Islander cultures. Within each group there is such a beautiful and diverse amount of traditions that tell the stories of API. Even more, there are many nuances of differences between all of the amazing countries within each group. This month is a wonderful opportunity to educate ourselves on all of the beauty that is these cultures. It's also a month to explore how we can increase access to justice and representation in the legal field for these identities. Check out the good reads and articles below to get involved!
---
Events

May 1
Spokane

Asian/Pacific American Portraits Exhibition. This exhibition of portraits Asian/Pacific Americans will be displayed in the Shadle Library art gallery through the month of May. It is one of the Shadle library's events celebrating Asian/Pacific American Heritage Month. Find out more here.


May 4
Spokane

Traditional Chinese Folk Dancing! The Spokane Chinese Association Dance group will perform three pieces. The first is "The Misunderstanding of the Kite". With the kite as a driver of the plot that eventually led to marriage, the tale weaves a beautiful love story shaped by coincidences and misunderstandings. The second piece is Qi Pao dance "Shanghai Nights". The dance describes both the glamorous nature of Shanghai nightlife and the ambivalent feelings that many had towards the international settlement in the 1940s. The third performance is "Moon Watching". Through its simple lyrics, the tender melody and traditional Qipao dance convey our most beautiful emotions such as friendship, affection, and love. Find details here.


May 5
Seattle

2019 Asian Pacific Islander Heritage Month Celebration. This event is a full day of dancing, food, singing, children's activities and more. It's a free event at the Seattle Center, and should be amazing! Check out the schedule for the day here.

May 6
South Hill

Traveling to China: A Chinese-American's Perspectives on Returning Home. As big as the United States by area, China boasts a wide range of geographic terrains, climates and demographics, which presents visitors with a variety of cultures, foods and customs. Born and raised in China, educated and living in America for nearly two decades, Sam Song will share with you his experiences of traveling back to China from an American's perspective. Bring your questions if you are planning a trip to China, because Sam's presentation will make your upcoming trip much more prepared and enjoyable. Find details here.

May 11
Burien

Te Fare O Tamatoa's Tahitian Dance & Drumming Showcase 2019. For the Seventh annual Tahitian Dance & Drumming Student Showcase, the theme is the Legends of Polynesia! Te Fare O Tamatoa is a nonprofit organization whose mission is cultural education by sharing Tahitian culture through dance and music. This event will be featuring our dance students from kids, beginner, intermediate and advanced class as well as our performance group Te'a Rama! We will also have special guest performances by Dojo 3 (taught by Nanave Radford). Get tickets here.

May 11
Seattle

UW Night Market In their 19th year, the Taiwanese Student Association at University of Washington invites everyone to their annual celebration of Taiwan's rich culture through delicious food, activities, and entertainment! For more details see here.

May 11
Olympia

The 2019 Asian Hall of Fame Celebration. The Robert Chinn Foundation is excited to present the 2019 Asian Hall of Fame Celebration. This year's honorees are J.R. Celski, a three time Olympian and medalist for speed skating; Johnathan M. Chu, director of Crazy Rich Asians; Marc Anthony Nicolas, producer of "The Talk;" and Luly Yang, internationally recognized Taiwanese-American fashion designer.

May 11
Seattle

14th Annual Xuân Cultural Festival – One Moon, Many Tides: Trở Về Một Tình Yêu. This year's theme centers on the Vietnamese refugee experience, as well as navigating what it means to be Vietnamese-American. This event will showcase Vietnamese culture through beautiful performances, a powerful skit, and delicious food. Snacks, drinks, and merchandise will be on sale, and VSA will be auctioning off fun and exciting prizes. Get tickets here.

May 13
Spokane

Understanding Omotenashi: Japanese Hospitality Omotenashi is the Japanese concept of offering the best service possible with no expectation of reward. Saki Katayama will explain how the needs of a guest are anticipated to the smallest detail: "The customer is god." See how new employees are taught to smile and bow; watch a bullet train car completely cleaned in seven minutes; and learn the proper way to ride an escalator! Find details here.

May 18
Spokane

The Story of Silk. Find out from Shadle Library's Juan Juan everything about this luxurious fabric, once history's most jealously and zealously guarded trade secret. Complete with hands-on experiment. Find details here.

May 22
Spokane

Crazy Rich Asians Movie Showing. The story follows Rachel, an American-born Chinese professor, who travels to her boyfriend Nick's hometown of Singapore for his best friend's wedding. Before long, his secret is out: Nick is from a family that is impossibly wealthy, and he's perhaps the most eligible bachelor in Asia. Eastern Washington University's Steve Bingo will introduce the film and discuss the groundbreaking Asian American ensemble casting, and the context surrounding the film. Find details here.

May 25
Spokane

K-pop! The Korean Pop Music Phenomenon. K-pop has grown into a global phenomenon, amassing enormous numbers of teenage and young adult fans. Generally "popular music" within South Korea, the term is often used more narrowly to describe a contemporary form of pop music that is influenced by styles and genres from around the world. Find details here.


May 26
Seattle

Marianas TaoTao Tano Club's 26th Annual Fiesta. The Seattle University Marianas TaoTao Tano Club is proud to host the 26th Annual Fiesta, "Voyage of Our Heritage: Sailing Forth With a New Generation." Our voyage begins by embarking on a proa boat that sails us through the culture of the Marianas Islands in the same way the proas sailed our ancestors around the Pacific Ocean to make our islands fruitful. We want you to experience a glimpse of what defines us as a Chamoru people. Please join us as we share our culture through delicious food, performances, and the re-telling of our legends that have been passed on from our ancestors and hold our cultural heritage. Get tickets here.


May 30
Des Moines

Back to Our Roots. Travel to the Pacific Islands at Highline College with delicious food, music, performances, songs and stories from the different islands. This event is to celebrate our cultures and also promote higher learning to Pacific Islander communities. Please, bring your family and friends! Find details here.