National Native American Heritage Month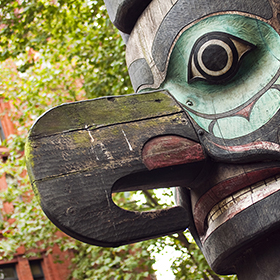 In Washington state there are 29 indigenous tribes that are recognized by the federal government, and more than 500 nationwide. But there are also more than 250 tribes in the US (7 of which are in Washington) that have been denied recognition by the federal government, meaning that they do not receive any monetary reparation for the use of their land or resources, nor do these tribes have the same rights to their land and resources that federally recognized tribes do. In general, the Indigenous nations in the US are not adequately represented in our daily lives. How many of the tribes in Washington State can you name? How many Indigenous artists, activists, entertainers, actors, etc. can you name? How many indigenous lawyers, judges, and other legal professionals can you name? These are just a few of the ways people can ask themselves how knowledgeable they are when it comes to the First Peoples of Washington.
Despite continued hardships, Indigenous nations have held on to their culture and traditions. It's important to be informed on the true history of this land, but this month is also intended to be for learning about the people who are native to Washington and how those cultures are thriving today. There are many Indigenous peoples doing amazing work in all fields, from getting Seattle to divest their retirement fund, to beautiful art pieces, to law. With it being National Native American Heritage Month, this is the perfect time to check out all of the amazing ways Indigenous peoples contribute to Washington!
---
Resources
Articles
Burke Museum: Duwamish Meanders: A river ran through it
Crosscut: A new law addresses epidemic of missing and murdered Indigenous women
High Country News: Where #MeToo meets #MMIW
Indian Country Today: #NativeVote18: 1000's of ND tribal members getting free ID's before Election Day
Seattle Met: The Tribe That Would Not Die
Sierra Club: Letter from Indigenous Activists
The Intercept: An Untold Number of Indigenous Children Disappeared at U.S. Boarding Schools.
Websites
Burke Museum Native American Heritage Month: The Burke Museum features a heritage page each month that has great compilations of articles about the celebrated community. Everything from articles about the history or Washington tribes to the current movements in those communities is available on their page.
Colville Tribes: The Confederated Tribes of the Colville Reservation is composed of twelve nations: Chelan, Chief Joseph Band of Nez Perce, Colville, Eniat, Lakes, Methow, Moses-Columbia, Nespelem, Okanogan, Palus, San Poil, and Wenatchi. Together they share 1.4 million acres of land and have 9,500 enrolled members. Their website gives more information about the reservation, and culture.
Duwamish Tribe: The Duwamish Tribes one of the tribes not federally recognized in Washington State. On their website you can read about the history of this tribe and find out how to stand with the Duwamish in solidarity towards environmental justice and indigenous rights. The website also features information on Real Rent Duwamish, a system set up for non-native occupants of Seattle to make rent payments to the Duwamish Tribe.
Governor's Offices of Indian Affairs: GOIA advocates for more education about Washington's first peoples and attempts to better the relationship between Washington's government and the Indigenous people's government. Their website has great resources about the tribal treatises, events/trainings, tribal directories, and state-tribal relations.
IllumiNative: This nonprofit was created and led by Native peoples to uplift a positive image of Native Nations. The creators feel that there are negative stereotypes associated with Native peoples, and hope that this organization will be able to illuminate contemporary Native voices.
Indian Law Section: ILS is a section of the WSBA that provides a forum for practitioners representing clients affect by Indian law. Their page features several newsletters that highlight recent developments in Indian Law.
Indian Law Resource Center: This website belongs to the Indian Law Resource Center who seeks to overcome the grave problems that threaten Native peoples by advancing the rule of law. Their website features the amazing projects this organization has accomplished that have had major impacts on the way First Nation people are treated.
Last Real Indians: LRI is an independent media outlet composed of several indigenous contributors who have adapted their traditional ways of oral story-telling to written form. They write about the continuing fights for justice by indigenous peoples all across the US and update their website and Facebook daily.
Missing and Murdered Indigenous Women Washington: MMIWW is an organization that brings awareness the missing and murdered women of Washington State. Washington State is ranked fourth in the United States as most Indigenous Women missing or murdered.
Native American Heritage Month This website is the official guide to NAHM and features an incredible amount of resources. There is a plethora of selected audio, pictures, and video files from the Library of Congress, and other such organizations. They also have a great summary of the creation of this heritage month here.
Native Daily Network: NDN is an independent media outlet that is based out of Tacoma, Washington. They frequently appear on Facebook live to report the most update news surrounding indigenous rights and post frequently to their website about environmental concerns for the native tribes of Washington.
Northwest Indian Bar Association: NIBA is an organization of Indian attorneys and judges in Alaska, Idaho, Oregon, Washington, British Columbia and the Yukon Territory, which aspires to improve the legal and political landscape for the Pacific Northwest Indian community.
Reports
National Institute of Justice Research Report: Violence Against American Indian and Alaska Native Women and Men
Reclaiming Native Truth: Reclaiming Native Truth, a project to dispel America's myths and misconceptions
Washington Indian Gaming Association: Washington Indian Tribes Today: Culture, Communities, Resources Informative report on the history of indigenous tribes in Washington State.
---
Events
Nov. 3
Seattle

Yəhaw̓ Artist Residency: Roldy Aguero Ablao. Did you know 'eco' means home? Join mixed-media artist and storyteller Roldy Ablao as they create artworks inspired by stories of home and connections to Indigeneity and environmental justice. Throughout fall of 2018 The Seattle Public Library is partnering with yəhaw̓, an Indigenous-led arts project, to showcase indigenous art and artists. Find out more about this showcase and the upcoming others here.

Nov. 3
Seattle

United Indians Art Market. Daybreak Star Cultural Center is filled with Authentic Native American Arts, Crafts and foods, perfect for Holiday Shopping. Many tribes and cultures are represented, including traditional and modern interpretations. Salmon lunch and Indian tacos are available for purchase, and entertainment is planned. Come celebrate with us, and support Native American artists, artisans and craftsmen. Benefits go to our Sacred Circle Art Program and Elders program for Native American Elders in the Seattle area. Find out more here.

Nov. 3
Seattle

How to Stop a Dam with Indigenous Resistance In Guatemala's Ixcán region, Indigenous communities have resisted the imposition of the Xalalá Dam for over a decade. Learn from the lessons of their successful organizing in conversation with NISGUA and Maya Mam community leader José Gomez. José will speak about their struggle to protect land and water, cultivate Indigenous leadership, and build community power in the face of harmful corporate and state-led mega development. Find out more about this event here.

Nov. 3, 4, 7, 8
Seattle

Te Ata Movie plus Te Ata Documentary. Te Ata (TAY' AH-TAH) is based on the inspiring, true story of Mary Thompson Fisher, a woman who traversed cultural barriers to become one of the greatest Native American performers of all time. Born in Indian Territory, and raised on the songs and stories of her Chickasaw culture, Te Ata's journey to find her true calling led her through isolation, discovery, love and a stage career that culminated in performances for a United States president, European royalty and audiences across the world. Find times here.

Nov. 4
Spokane

The Spokane Tribe and its River. Spokane Tribal members Margo Hill and Rachel Ferguson present a program and poetry discussing the connection the Spokane River has on the tribe's culture, history and identity and the impact from dams and environmental degradation. Find more details here.

Nov. 10
Seattle

Celebrating our Native Veterans. The Daybreak Star Indian Cultural Center welcomes people to come share a meal and celebrate Native Veteran. Find more details here.

Nov. 10
Seattle

Indigenous Showcase: Tribal Justice. Tribal Justice follows two extraordinary Native American women, both chief judges for their tribes' courts. Abby Abinanti, Chief Judge of the Yurok Tribe on the northwest coast of California, and Claudette White, Chief Judge of the Quechan Tribe in the southeastern desert near Yuma, California, are creating innovative systems that focus on restoring rather than punishing offenders in order to keep tribal members out of prison, prevent children from being taken from their communities, and stop the school-to-prison pipeline that plagues their young people. Find tickets here.

Nov. 10
Suquamish

Fall Fashion Show: Sovereign Style. The Suquamish Museum presents their fall fashion show in partnering with the House of Awakened Culture to raise for the Suquamish Foundation. Find more info here.

Nov. 11
Tulalip

Lecture Series: To Discuss History of Native American Military Service. HCC Longhouse Room Sam Stitt will present a brief history of Native American warrior tradition, from ancient times to present. Highlighting several profiles featured in Warriors in Uniform, and the 2004 Powwow in Iraq. Find out more here.

Nov. 15
Seattle

No More Stolen Sisters! Washington State ranks fourth in the nation for the rate of missing and murdered Indigenous women and girls. This is an epidemic across the state and the U.S. that has been ignored by authorities and elected officials. Come to this meeting to hear from local Native American activist Earth-Feather Sovereign and others from the Seattle-area Missing and Murdered Indigenous Women's group who are organizing to bring attention and solutions to this crisis. Find details here.

Nov. 17
Seattle

Beyond the Frame Symposium. Join scholars and historians as they examine Edward S. Curtis and Native American and First Nations Cultures. This symposium examines the work of Curtis while recognizing the need to move beyond the frame of his work to explore concepts of authenticity in art, tribal sovereignty, environmental activism, and Indigenous ways of knowing. Registration is recommended, and can be done here.

Nov. 17
Seattle

Living Voices: Native Vision. A Navajo girl explores her family's past while struggling to keep her culture in a government-run boarding school. Her vision of becoming a modern healer in a changing world is brought to life as her community joins the U.S. in World War II. Living Voices combines live theatrical performances with archival film, turning history into a moving personal journey. Get tickets here.

Nov. 18
Seattle

Short Stories Live. The beloved Short Stories Live series returns to present 'Seattle Voices,' a collection of readings from the works of Black and indigenous authors read by talented local actors. Find tickets here.

Nov. 23-25
Seattle

Native Gift Fair. What a great way to get your Christmas shopping done without fighting the crowds and traffic at the malls! Buy directly from Native artists and crafters while we celebrate the official beginning of the holiday season. There will be something for everyone, in every price range. Refreshments available for purchase on site. Find more information here.

Nov. 24
Seattle

Peace Pole Dedication. Hosted by the Seattle Rotary Club. Cookies, coffee, and refreshments provided. Read more about this event here.