Paula Littlewood | Executive Director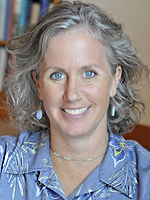 Paula Littlewood joined the WSBA staff as Deputy Director in September 2003 and became the Executive Director in May 2007. Paula is a graduate of the University of Washington School of Law and also received a master's degree in international studies from the UW. Prior to law school, she was a professional campaign coordinator and fundraiser here in the state, working both on statewide candidate and initiative campaigns as well as local legislative races. She also taught English in Taiwan for two years and spent another 10 months traveling in China and Southeast Asia. After law school, she served as Assistant Dean for Administration and Public Relations at the UW Law School for five years, then spent a year in Telluride, Colorado, before joining the WSBA.
In addition to her full-time position as Executive Director of the WSBA, she is a member of the Executive Committee of the University of Washington School of Law's Leadership Council; serves as Vice President of the International Institute of Law Association Chief Executives (IILACE). She is also a member of the Institute for the Advancement of the American Legal System (IAALS) Board. She recently served on the American Bar Association's Commission on the Future of Legal Services, co-chairing its Regulatory Opportunities Subcommittee, and was a member of the ABA's Task Force on the Future of Legal Education.
Learn More about Paula
Paula's Publications
Law Reviews
Stephen R. Crossland & Paula C. Littlewood, Washington's Limited License Legal Technician Rule and Pathway to Expanded Access for Consumers, 122 Dickinson L. Rev. 859-874 (2018)
Stephen R. Crossland & Paula C. Littlewood, The Washington State Limited License Legal Technician Program: Enhancing Access to Justice and Ensuring the Integrity of the Legal Profession, 65 S. Car. L. Rev. 611-22 (2014)
Paula C. Littlewood, Domestic Child Abuse Under the UN Convention on the Rights of the Child: Implications for Children' Rights in Four Asian Countries, 6 Pac. Rim Law & Pol. J. 411-488 (1997)
Book Contribution
Stephen R. Crossland & Paula C. Littlewood, Alternative Legal Service Providers: Filling the Justice Gap, in The Relevant Lawyer: Reimagining the Future of the Legal Profession 25-35 (Paul A. Haskins ed., American Bar Association Standing Committee on Professionalism, Center for Professional Responsibility 2015)
Select Professional Publications
Stephen R. Crossland & Paula C. Littlewood, Opportunities for Paralegals and Consumers: The Limited License Legal Technician, Legal Management (Association of American Legal Administrators, Feb. 2017)
Stephen R. Crossland & Paula C. Littlewood, An Idea Whose Time Has Come: LLLTs Provided Qualified Legal Services at an Affordable Price, Law Practice (American Bar Association Law Practice Division, Jul.-Aug. 2016)
Paula C. Littlewood, The Practice of Law in Transition, NWLawyer (Washington State Bar Association, Jul.-Aug 2015)
Paula C. Littlewood, Digital Immigrants vs. Digital Natives: Who's the Tech Generation? NWLawyer (Washington State Bar Association, Jul.-Aug. 2014)
Paula C. Littlewood, Leaning In to the Future, NWLawyer (Washington State Bar Association, Oct. 2013)
Paula C. Littlewood, Legal Education: Facing a Wave of Change, NWLawyer (Washington State Bar Association, Sept. 2013)
Paula C. Littlewood, The Changing Legal Services Market, NWLawyer (Washington State Bar Association, Apr.-May 2013)
Paula C. Littlewood, Moving Forward: Taking a Fresh Look at Law and the Profession, NWLawyer (Washington State Bar Association, Feb. 2013)
Paula C. Littlewood, Let's Seize the Moment, NWLawyer (Washington State Bar Association, Dec 2012-Jan. 2013)
Paula C. Littlewood, Day 1 in Law School is Day 1 in the Profession, Washington State Bar News (Washington State Bar Association, Aug. 2011)
Paula C. Littlewood, Enhancing the Profession with Enhanced Education, Washington State Bar News (Washington State Bar Association, Aug. 2010)
Paula C. Littlewood, Delegated Responsibility to Protect the Public, Washington State Bar News (Washington State Bar Association, Aug. 2009)
Paper Presented at Conference
Paula C. Littlewood, Rethinking Legal Education in a Changing Profession, The Changing Legal Profession: The Importance of These Trends for the Future of Legal Education, Preparing Lawyers for Tomorrow's Society and Profession Conference (Fakultas Hukum Universitas Airlangga, Surabaya, Indonesia, Oct. 2013)
Course Taught
University of Washington School of Law, Lawyers, the Legal System, and Professionalism, co-instructor Michele Storms, 2 credits (Summer 2010)
Select Presentations
The Inward Looking Chief Executive: Personal Development (moderator). Annual Conference of the International Institute of Law Association Chief Executives, Ottawa, Ontario (September 2018)
New Challenges for Lawyer Regulation (co-moderator). National Association of Bar Executives Annual Meeting, Chicago, Illinois (August 2018)
New Court Roles and Procedural Innovations to Ensure Justice: A Review of Effective Strategies (panel member). Conference of Chief Justices/Conference of State Court Administrators Western Region Summit on Sustaining Justice Through Innovation, Vancouver, Washington (May 2018)
Washington's Limited License Legal Technician Rule and Pathway to Expanded Access for Consumers. Dickinson Law Review Symposium, Access to Justice: Innovations and Challenges in Providing Assistance to Pro Se Litigants, Carlisle, Pennsylvania (March 2018)
The Future of Lawyer Regulation – A Profession at Risk? (co-moderator). National Association of Bar Executives Mid-Year Meeting, Vancouver, British Columbia (January 2018)
Independence and Autonomy of the Bar (moderator). Annual Conference of the International Institute of Law Association Chief Executives, London, England (November 2017)
Our Changing Profession: Challenges and Opportunities (keynote speaker). Institute for the Advancement of the American Legal System Educating Tomorrow's Lawyers Conference, Denver, Colorado (October 2017)
Limited License Legal Technician Program: The History and Future of the Program. Law Society of Manitoba Bencher Meeting, Clear Lake, Manitoba (September 2017)
Washington State's LLLT Program: Past, Present, and Future. National Organization of Bar Counsel Annual Meeting, New York, New York (August 2017)
Our Changing Profession: Challenges and Opportunities (keynote speaker). Law Society of Alberta Bencher Retreat and Business Meeting, Jasper, Alberta (June 2017)
Alternate Legal Service Providers (panel member). Law Society of British Columbia Bencher Retreat, Victoria, British Columbia (May 2017)
Shifts in the Regulatory Landscape. Institute for the Advancement of the American Legal System Meeting of Law Firm Council and Business Leadership Network, Denver, Colorado (April 2017)
Regulatory Barriers/Challenges/Opportunities (panel member). Association of Professional Responsibility Lawyers Midyear Meeting, Miami Beach, Florida (February 2017)
Our Changing Profession: Challenges and Opportunities. Workshop on Employment and Young Lawyers in Quebec, Barreau du Québec, Montreal, Québec (November 2016)
Our Changing Profession: Challenges and Opportunities (keynote speaker). Federation of Law Societies of Canada Annual Conference, St. Andrews by-the-Sea, New Brunswick (October 2016)
Our Changing Profession: Challenges and Opportunities (keynote speaker). Association for Continuing Legal Education Annual Meeting, Seattle, Washington (August 2016)
Limited License Legal Technician Program: History, Progress, and Upcoming Developments. Association for Continuing Legal Education Annual Meeting, Seattle, Washington (August 2016)
Developments in the Limited License Legal Technician Program. ABA/ National Legal Aid & Defender Association (NLADA), Chicago, Illinois (May 2016)
Limited License Legal Technicians: A New Delivery System for Legal Services. Illinois Supreme Court Commission on Professionalism's "The Future is Now: Legal Services 2016," Chicago, Illinois (April 2016)
Washington's Limited License Legal Technicians. National Counsel of Lawyer Disciplinary Boards Midyear Meeting, San Diego, California (February 2016)
Future of Law (panel member). Democratic Attorneys General Association, Winter Policy Conference, Scottsdale, Arizona (January 2016)
"External Influencers" on Legal Education (panel member). Institute for the Advancement of the American Legal System's Educating Tomorrow's Lawyers Conference, Denver, Colorado (October 2015)
Limited License Legal Technician Program: The History and Future of the Program. National Client Protection Organization Fall Workshop, Little Rock, Arkansas (September 2015)
The Fine Line Between Protecting Members' Interests, Promoting and Protecting Public Interest and Regulating the Affairs of Members – Which Cap to Wear, When and Why? (panel member). Annual Conference of the International Institute of Law Association Chief Executives, Washington, D.C. (September 2015)
Limited License Legal Technicians (LLLTs): A New Delivery System for Legal Services. Illinois State Bar Association Assembly Meeting, Geneva, Wisconsin (June 2015)
Roles Beyond Lawyers (panel member). ABA/ National Legal Aid & Defender Association (NLADA) Equal Justice Conference, Austin, Texas (May 2015)
Regulators' Responses to the Economic and Technological Forces Transforming the Legal Profession (panel member). Stanford University CodeX FutureLaw Conference, Stanford, California (April 2015)
The Future of the Profession and Role of the Limited License Legal Technicians (keynote). American Bar Association Center for Professional Responsibility 2nd Annual UPL (Unauthorized Practice of Law) School, Chicago, Illinois (April 2015)
Legal Services at a Crossroads – What is the "Practice of Law" and Who Does It? (panel member). Annual Conference of the International Institute of Law Association Chief Executives, Cape Town, South Africa (November 2014)
The Crisis in Legal Education & Its Impact on the Federal Courts (panel member). 2014 Ninth Circuit Judicial Conference, Monterey, California (July 2014)
Role of Law Schools in Working with Non-Lawyer Advocates to Help Narrow the Justice Gap (via Skype), Third Annual Conference on Access to Justice: The Role of New York's Law Schools in Helping Meet the Essential Civil Legal Needs of Low Income New Yorkers, Long Island City, New York (May 2014)
The Promise of Limited License Legal Technicians to Increase Access to Justice (panel member). D.C. Bar Section on Courts, Lawyers & the Administration of Justice, Washington, D.C. (March 2014)
The Changing Legal Profession: The Importance of These Trends for the Future of Legal Education. Preparing Lawyers for Tomorrow's Society and Profession, Fakultas Hukum Universitas Airlangga, Surabaya, Indonesia (October 2013)
Future of the Practice of Law (panel member). National Association of Bar Related Insurance Companies Annual Meeting, Madison, Wisconsin (August 2013)
Thinking Outside the Bar Box: Preparing Your Members and Staff for New Trends in Legal Services Delivery (moderator). National Association of Bar Executives Annual Meeting, San Francisco, California (August 2013)
Limited License Legal Technicians – Making Justice More Accessible (panel member). National Council of Bar Presidents Annual Meeting, San Francisco, California (August 2013)
Evolve or be Left Behind: What Statistical Data are Telling Us (panel member). Initiative for Diversity Managing Partners Summit, Seattle, Washington (May 2013)
Future of Legal Education. American Association of Law Libraries, Academic Law Libraries – Special Interest Section, Seattle, Washington (May 2013)
Legal Responsibilities of Association Boards. Washington Society of Association Executives Meeting, Bellevue, Washington (April 2013)
Innovate or Die: The Future Depends on Your Ability to Innovate, So Re-Think That Box (moderator). Western States Bar Conference, Kauai, Hawaii (March 2013)
Future of the Legal Profession. Ninth Annual Ethics Workout, King County Bar Association, Seattle, Washington (December 2012). Is the End Near for Self-Regulation of the Legal Profession (panel member). Annual Conference of the International Institute of Law Association Chief Executives, Hong Kong (October 2012)
The Changing Legal Profession: Effects of Globalization on the Profession in the United States and Worldwide. A Glance of US Legal Politics and Professions, Faculty of Law Universitas Gadjah Mada,Yogyakarta, Indonesia (October 2012)
Our Changing Profession: Challenges & Opportunities. Seventh Annual Washington State Bar Association Solo and Small Firm Conference (plenary speaker), Ocean Shores, Washington (July 2012)
We're Mad as H*ll…Should We Take It Anymore? (moderator). National Association of Bar Executives Midyear Meeting, New Orleans, Louisiana (February 2012)
Legal Ethics and Professional Responsibility (moderator). Annual Conference of the International Institute of Law Association Chief Executives, Adelaide, Australia (October 2011)
Bridging the Gap: Enhancing Law School/Bar Association Collaborations for a Stronger Profession (moderator). Western States Bar Conference Annual Meeting, Ka'anapali, Maui, Hawaii (March 2011).
Globalization and the Law: The Challenges and Opportunities of Outsourcing and the New Global Economy (moderator). Finding Our Future – Practicing Law in the 21st Century, University of Washington School of Law, Seattle, Washington (October 2010)
What the Future Holds: The Practice of Law in the 21st Century. Washington State Access to Justice & WSBA Bar Leaders Conference, Yakima, Washington (May 2009)
State Bar Challenges in Tough Economic Times (panel member). Western States Bar Conference Annual Meeting, Oahu, Hawaii (March 2009)
Communicate Your Vote for Equal Justice: The Access to Justice Communications Plan is Here! Washington State Access to Justice & WSBA Bar Leaders Conference, Yakima, Washington (June 2004)
Loan Repayment Assistance Programs: Not Just for Schools Anymore (panel member). ABA/National Legal Aid & Defender Association (NLADA) Equal Justice Conference, San Diego, California (March 2001)
Specific Advancement Issues for Professional Schools (panel member). Council for Advancement and Support of Education (CASE) District 8 Annual Conference, Victoria, British Columbia (February 2001)
Affiliations
Washington State Bar Association
American Bar Association
King County Bar Association
National Association of Bar Executives
National Conference of Bar Foundations
International Institute of Law Association Chief Executives
The Fellows of the American Bar Foundation (invitation only)
Service
Seattle Parks and Recreation Coach, Girls' Volleyball (Fall 2016, Fall 2017, Fall 2018)
American Bar Association Commission on the Future of Legal Services, co-chair of Regulatory Opportunities Subcommittee (2014-2016)
Institute for the Advancement of the American Legal System's Foundations for Practice Advisory Group (2014-2015)
American Bar Association Task Force on the Future of Legal Education (2012-2014)
National Association of Bar Executives, Chair Legal Education Task Force (2013), Program Chair (2014-2015)
American Bar Association Rule of Law Initiative, delegation member to Vietnam (May 2011)
University of Washington School of Law Public Interest Law Association Advisory Committee (2011-present)
University of Washington School of Law Loan Repayment Assistance Program Advisory Committee (2009-2010)
University of Washington School of Law Mentorship Program (2003-present)
Washington State Access to Justice Board Communications Committee (2002-2004)
Washington State Bar Association Bar News Review Committee (2002)
Joint Media Committee of the Washington State Access to Justice Board and Council on Public Legal Education (2001)
King County Bar Association Strategic Planning Committee (2001)
Washington State Bar Association Legislative Committee (2000-2002)
Washington State Bar Association Editorial Advisory Board (2000-2002, chair 2002)
King County Bar Association Legislative Committee (1998-2003, co-chair 2000-02)
King County Bar Association Public Information Committee (1998-2003)
Boards
Institute for the Advancement of the American Legal System (2016-present)
International Institute of Law Association Chief Executives, Executive Committee (2014-present), Program Chair (2015-2016), Treasurer (2016-2017), Vice President (2017-present)
Latona School Association (2010-2014)
Downtown Seattle YMCA Board of Directors (2009-2012)
University of Washington School of Law Alumni Association Board of Directors (2005 - present (currently Law School Leadership Council)), Treasurer (2010), Vice President (2011), President (2012)
Washington Appleseed Board of Directors (2004-2012), President (2008-2010)
Awards
National Association of Bar Executives President's Award (2014-2105)
University of Washington School of Law, Law Women's Caucus Distinguished Alumnae Award (2014)
University of Washington School of Law, Pacific Rim Law and Policy Journal Distinguished Pac Rim Alumnae Award (2012)
University of Washington School of Law, Law Women's Caucus Outstanding Contribution to Women in the Law Award (2010)