Better search. Better navigation. Clean modern look. Mobile-friendly.
You asked for a better website and now it's here. Introducing the new wsba.org!
What's New?
Fresh, modern design
Audience-based navigation
A sophisticated search engine that works
Improved "Legal Directory" with LPOs and LLLTs, as well as lawyers
A top navigation bar for easy access to Casemaker, myWSBA, our CLE store, and more
Tablet- and mobile-friendly
… and we shaved off more than 500 pages and several thousand media files.
If you've ever visited WSBA.org before, you probably already noticed one of the biggest changes — a fresh, modern design with fewer but larger images, less clutter, and enhanced usability. At the start of the redesign process, members weighed in about WSBA.org through phone calls, an online survey, and focus groups. And we listened.
We heard you say searching for a document or specific page was difficult on the old site. The new search engine is more sophisticated and highly tuned to put the results you're looking for right at the top. Optional filters help narrow your search. When you enter a search term, you might be surprised to see the term pop up before you type the third letter. This thing's a mind reader.
We heard you say our old navigation buttons were confusing and the content was less than organized. So we took your advice and organized our new site by our major audiences, such as members and the public. We designed a drop-down top navigation bar that puts about 90% of the site right on the homepage. Almost anything you're looking for is just one click away.
We heard from section members, who used to tunnel through our old site with numerous clicks to find meeting information or a subcommittee. No more. More than 10,000 section members now have a top-level navigation button with a drop down listing all 29 sections.
And yes, we've caught up to the age of smart phones and tablets. The new site is fully responsive and adaptable for easy viewing on just about any handheld device on the market.
It's not just bells and whistles. We heard you say the old site seemed cluttered with too much outdated or irrelevant content, so we weeded out the old and unused content. We cut our page count from 820 webpages to just 310. And we got rid of more than 1,000 media items, such as PDF documents and images. What we're left with is a much more efficient, easier-to-use site built with a clean architecture and intuitive navigation.
---
Wait. We're not done listening. We'd love to get your feedback on the new site and how we might make it even better.
---
User Tips
Finding our more popular webpages is a snap with the two horizontal navigation bars atop every page in the site. The utility navigation, the shorter white bar on the upper-right corner, includes single-click access to popular categories like our improved Legal Directory, myWSBA and our online store for CLEs and publications. Just below that bar, the main navigation bar directs visitors by audience, so most of what our members are looking for falls under For Legal Professionals. Sections get a higher profile with their own top-level navigation button and drop-down menu. And our boards and committees are visible under the heading Connect & Serve in the main navigation.


Under For Legal Professionals, we've reorganized our features and services by audience, too. Licensing and admissions is now categorized by license type – Lawyers, LLLTs, LPOs.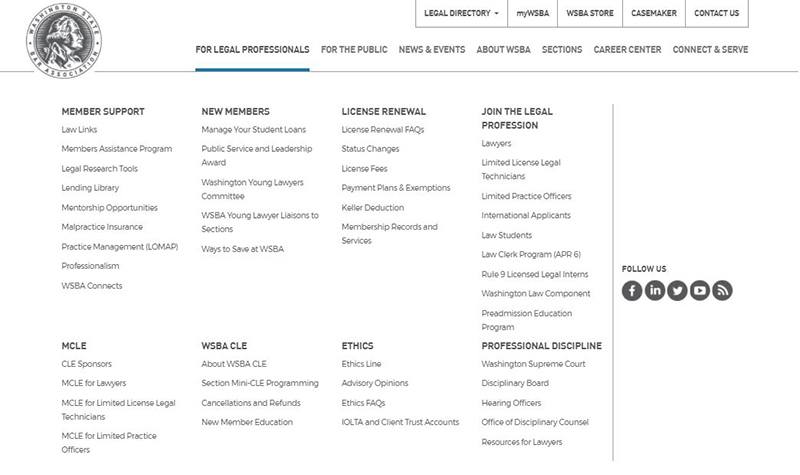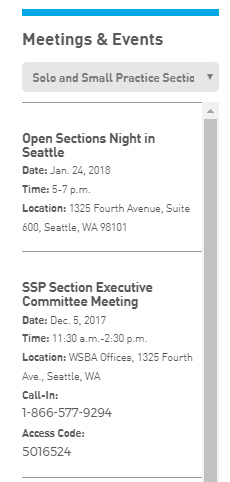 For boards, committees and sections, it's now easier to access meeting agendas and minutes, which are posted in the events calendar on the date corresponding to the scheduled meeting. New meeting information boxes in the right column of section and committee pages make it easier than ever to find out when and where your next meeting is and what's on the agenda.
As hard as we tried to make the new site usable as possible, we know there's usually a learning curve when it comes to change. If you have trouble finding anything, have a question about the site, or come across a typo or broken link, please use the feedback form above or contact our Service Center at 206-443-WSBA (9722) or questions@wsba.org.