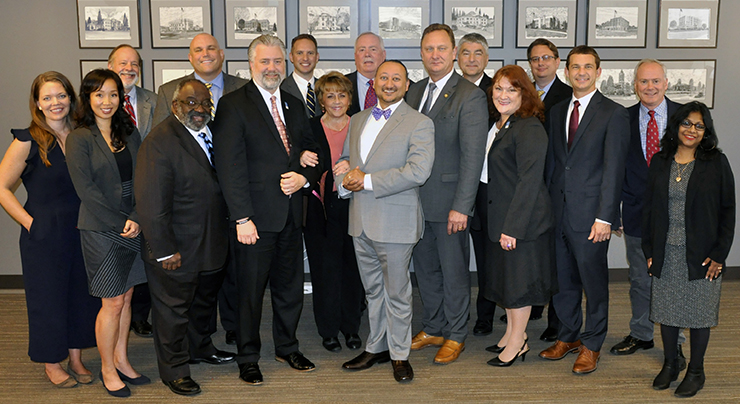 The Board of Governors: (l-r) Terra Nevitt, Jean Kang, Brian Tollefson, Alec Stephens, Dan Clarke, President-Elect Kyle Sciuchetti, Hunter Abell, Kim Hunter, P.J. Grabicki, President Rajeev Majumdar, Immediate Past-President Bill Pickett, Thomas McBride, Carla Higginson, Bryn Peterson, Russell Knight, Paul Swegle, and Sunitha Anjilvel
WSBA Governance
The Board of Governors is the governing body of the WSBA that determines the general policies of the Bar and approves its budget each year. The board moves the Bar forward with an eye toward its long-standing mission, guiding principles, and short-term strategic goals. The board consists of the President, President-elect, Immediate Past President, and members elected from each Congressional District and at-large.
Your Congressional District is listed on myWSBA (log in required). You can also enter your home address (or if you live out of state, your agent of service address) on this congressional district map. Choose "Congressional," select "Find My District," and then the map next to the symbol marking your address.
See the proposed amendments to the Bylaws on the Nov. 22-23, 2019, Board of Governors meeting agenda.
---
Board Meetings
Meeting materials are posted by Friday afternoon prior to the Board meeting. Late materials, if any, are posted the day prior to the Board meeting. The Board may go into executive session for any reason listed in RCW 42.30.110. No final disposition regarding any matter will occur at the meeting except as indicated on this notice.
Next Board of Governors Meeting
NOTICE IS HEREBY GIVEN by the Washington State Bar Association Board of Governors, pursuant to RCW 42.30.080, that a Board of Governors meeting will be held on:
Date: Thursday and Friday, Jan. 16-17, 2020
Time: TBD
Location: WSBA Conference Center, 1325 Fourth Ave., Suite 600, Seattle, Washington
Agenda | Materials
This meeting will be webcast. A link will be posted on this page before the meeting.
Some Board members may participate via conference call. A speaker phone will be available during the Board meeting at the location noted above for members of the public to attend and hear statements/discussion of those members participating by phone. In addition, call-in instructions are pasted below for members of the public who would like to attend telephonically.
Instructions for public call in: 866-577-9294, access code 52810#
You are not required to state your name to join this meeting. If the conference call provider message asks that you state your name, you may press # without stating your name and you will be connected to the meeting.
Reasonable accommodations for people with disabilities will be provided upon request. Please email Shelly Bynum at shellyb@wsba.org or 206-239-2125