Local Heroes Honored
by WSBA
Congratulations to WSBA members Lisa Lowe and David Nelson. They're our latest Local Heroes, pictured here with WSBA President Bill Pickett.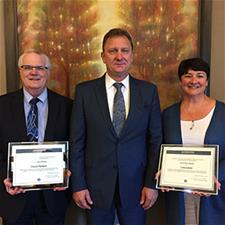 Pickett presented the Local Hero awards to Nelson and Lowe Friday at the WSBA Board of Governors meeting in Vancouver, Washington.
Learn more about their achievements in the media releases for David Nelson and Lisa Lowe.