The WSBA's MentorLink Mixers are unique, free-to-attend events that bring together potential mentees and mentors with similar interests in the legal profession. Should a mentor and mentee decide to continue the mentorship relationship, additional information on the self-structured mentorship program for MCLE credit is available.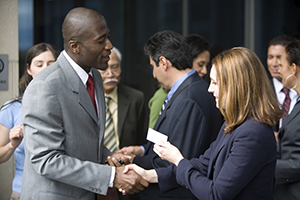 The Next MentorLink Mixer
Thursday, Jan. 25, 2018
Noon–1:30 p.m.
WSBA Offices in Seattle
Topic: Bar Leadership
Join us for a special MentorLink Mixer with Bar leadership who will be participating from the following groups:

Access to Justice Board
Character and Fitness Board
Committee on Professional Ethics
Council on Public Defense
Disciplinary Board
Editorial Advisory Committee
Judicial Recommendation Committee
Law Clerk Board
Limited License Legal Technician Board
Limited Practice Board
Mandatory Continuing Legal Education Board
Practice of Law Board
Washington Young Lawyers Committee

Space is limited. Please save the date and RSVP today!
Upcoming MentorLink Mixers

Mark you calendar!
Feb. 16: Transitioning into Solo Practice — WSBA Offices

March 15: Women in Leadership — Spokane

April 27: Diversity — WSBA Offices

May 15: Alternative Careers — WSBA Offices

June 14: Government — Olympia

Sept. 20: New Admittees — WSBA Offices