Do you have questions about using the WSBA lending library? Check out the FAQs below.
Don't see what you're looking for? Send us an email.
Frequently Asked Questions
How do I use the lending library?
First, you'll need to create a Libib patron profile. To request one, fill out this form, and we will email you the log-in credentials within one business day.
It's been over 24 hours, and I haven't received a patron account confirmation. What do I do?

Send us an email and we'll get back to you right away.
I have my patron account. What do I do next?
Visit wsba.libib.com and select "Patron Login":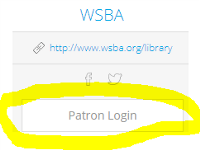 After logging in, you can browse titles and place a hold.
What happens after I place a hold?
If the book is available, we will automatically ship it to you within two business days, using the address you provided for your Libib account.
If the book is checked out to someone else, it should become available within 2-3 weeks and we will ship it to you once it is returned.
Can I stop by in person?

You can stop by and borrow books in person at the WSBA offices, but at this point we are not able to give you the option of placing a hold online and picking up the title in person.
To visit the library, check in with the reception desk on our main floor:
Washington State Bar Association
1325 Fourth Ave., Suite 600
Seattle, WA 98101-2539
How can I renew the books I have checked out?
If another member has not placed a hold on the book, you can renew for an additional two weeks.
To renew your books, visit wsba.libib.com and select "Patron Login":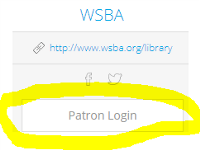 After logging in, you can see your "active items" (books checked out to you) and will have the option to renew if it is available to you: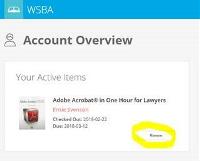 How do I return books?
If you're in the area, you can stop by the WSBA offices in person and drop the books off at the front reception desk on the sixth floor. You can stop by anytime between 8 a.m. and 5 p.m., Monday-Friday.
Otherwise, you can return books by shipping them to us at the address below (you'll be responsible for the cost of return shipping):
Washington State Bar Association
Attn: Lending Library
1325 Fourth Ave., Suite 600
Seattle, WA 98101-2539