Your Voice Matters
WSBA regularly outreaches to members to understand how we can best serve our state's diverse legal community. In addition to many general-question and program-specific feedback mechanisms we provide, we also conduct two ongoing surveys to gauge members' perception and satisfaction with WSBA. We analyze the results and trends to improve programs, communication, and resources to align with members' needs and expectations.
Ongoing Outreach Telephone Survey
In 2018, we began an ongoing telephone survey of members to get a snapshot of the overall perception of WSBA's services and communication. We randomly select about 100 active members each quarter to participate in a quick 10-minute phone call (conducted by WSBA staff members in every department). The feedback we collect not only helps us improve, but it's also an opportunity for us to answer questions and provide resources for each individual caller. All feedback is recorded anonymously, and results and trends are compiled into quarterly reports.
Results and Trends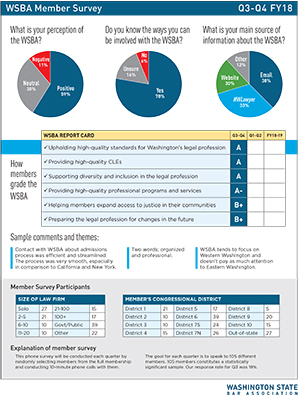 The quarterly reports and outreach maps below emphasize trends in the survey data and highlights other WSBA outreach activity throughout the state.
FY 2020
FY 2019
FY 2018
More information about the outreach maps
---
Annual Opt-In Online Survey
All members have the opportunity to participate in a two-question perception survey each fall. We send the survey link to all members via the Take Note e-newsletter and post the link at wsba.org while the survey is open. Thank you for your participation!
The Results
---
If you would like to provide input about the WSBA in general or a specific topic outside of these survey opportunities, please contact questions@wsba.org.