Legal Lunchbox™

The Legal Lunchbox™ series of webcasts is a member benefit that provides easily accessible, free continuing legal education (CLE) programming to Washington State Bar Association members in subject areas aligned with the WSBA mission, such as diversity, mentorship, member wellness, public service and access to justice, ethics, and 21st-century skills.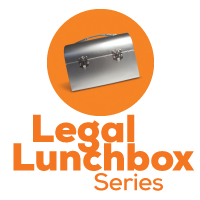 The Legal Lunchbox™ series is delivered via live webcast to your computer the last Tuesday of each month from noon to 1:30 p.m., except for August and December, when an on-demand seminar is available for viewing all month long. Each program is 1.5 hours long and provides 1.5 CLE credits.
An average of 1,275 members log in each month to take advantage of this valuable member benefit. If attended consistently, the Legal Lunchbox™ series satisfies an attorney's entire CLE requirements for a three-year period (45 credits in three categories).
To register online, navigate to the Legal Lunchbox™ page of the WSBA Online Store and type Legal Lunchbox into the search bar. Make the most of your license fee and register for this month's Legal Lunchbox™ program today!
All Legal Lunchbox™ programs are recorded and offered on-demand (view whenever you chose) at 50 percent off standard prices*. Review the on-demand library of Legal Lunchbox™ programs right now
* Discount is reflected in the listed price of $49. No additional discount will be applied.