Professionalism in Practice: Prosecutor Kelly Montgomery
by WSBA
Congratulations to our latest Professionalism in Practice award recipient, Kitsap County Sr. Deputy Prosecutor Kelly Montgomery.
Rarely will you find Kelly Montgomery's office empty. As the senior deputy prosecuting attorney for the Kitsap County Prosecutor's Office, Montgomery has a busy case load of her own, but she is also generous with her time to train and coach other attorneys, who are more than happy to avail themselves of her legal expertise.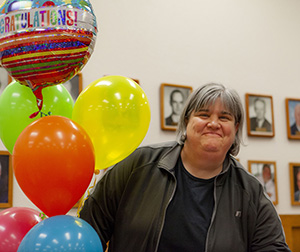 In a joint nomination for the WSBA Professionalism in Practice (PiP) Award, Kitsap County Chief Deputy Prosecutor Chad Enright and Sr. Deputy Prosecuting Attorney Coreen Schnepf said, "Young, older, inexperienced, and experienced attorneys are constantly in her office seeking her advice on legal and evidentiary issues or advice on charging decisions and trial work."
Known for her extensive trial experience and "brilliant legal mind," Montgomery offers frequent trainings for all attorneys in the office, focusing on complicated legal issues and analyses of new case law. She has an extensive background in criminal law, with experience at multiple municipalities and counties. Montgomery supervises the office's General Adult Felony Unit, which prosecutes violent crimes, property crimes, and financial crimes. She is on call 24 hours a day to provide legal assistance to law enforcement as they investigate crimes, and prosecutes sex offenses and domestic violence crimes for Kitsap County.
"It always amazes me that she has the time to work with so many other attorneys while keeping up with her own busy case load," Schnepf said. "She is an exemplary attorney and human being.
---
Have you witnessed an act of outstanding professionalism by a WSBA member? Please submit a PiP nomination using this form. The WSBA presents these awards continually throughout the year — often in a surprise delivery, a la Publishers Clearing House! — in recognition of legal professionals who advance the rule of law through day-to-day acts of integrity, respectfulness, cooperation, and customer service. Email barleaders@wsba.org for more information.