Civil Rights Law Section
Approved by the WSBA Board of Governors in December 2008, the Civil Rights Law Section invites you to become a member. Section membership is open to any Active member of the WSBA, as well as specially admitted members such as emeritus, military, or foreign house counsel. Any other interested person may become a non-voting subscriber of the Section upon payment of annual dues.
The Civil Rights Law Section sponsors CLEs on civil rights law and provides a forum for activities with civil rights organizations throughout the state. The Section focuses on the practice and policy of civil rights law, which includes the rights of racial, ethnic, religious, and sexual-orientation minorities; immigrants; those with a mental or physical disability; and the impoverished; as well as issues regarding freedom of speech; freedom from state-promulgated religion; and privacy rights.
The Section developed out of the WSBA Civil Rights Committee, which had been a standing committee since the Bar was formed in 1933.
---
A Message from Our Secretary
Hello, this is Daniel Gallagher. I am the current Secretary of the Executive Committee for your Civil Rights Law Section. In that role, I am responsible for keeping the minutes for our monthly meetings and updating the website.
Thank you for choosing to be a member of our section. The section is growing and it is a very exciting time to be a member. It's fair to say that our civil rights are being challenged as local and national security concerns confront community members. From the federal Patriot Act to use of force by police, especially against minorities from New York to Seattle, Miami to L.A. Sadly, racism is not a thing of the past, but when it comes in the form of authority — under the color of law — it can have lethal effect.
---
Honoring a Legacy
The WSBA Civil Rights Law Section Honors the Legacy of the Rev. Dr. Martin Luther King Jr.
The mission of the Civil Rights Law Section is to educate and advocate for civil liberties and equal rights in the context of the legal issues of Washington state residents. This year, the Civil Rights Law Section's statement honoring Dr. King's legacy was done in collaboration with WSBA President Bill Pickett and can be found in the January 2019 edition of the NWLawyer.
Read the full statement here.
---
WSBA Civil Rights Law Section Annual Awards
Each year, the Civil Rights Law Section recognizes individuals or organizations who have made a notable contribution to the cause of civil rights. Recipients are persons or entities who have championed the cause of equality for impoverished, underserved, minority or disabled populations in Washington state. Examples of exemplary work in this area would include, but are not limited to, those who regularly fight on local or state government levels for expansion or defense of civil rights protections, or who represent or advocate on behalf of people or issues concerning civil rights or basic human rights.
Distinguished Service Award
Recipients are primarily attorneys who have demonstrated in their career regular work for the expansion or defense of civil rights protections at the local, state or national level.
Civic Leader Award
Recipients are attorneys, individuals or organizations that represent or advocate on behalf of people or legal issues regarding civil rights, civil liberties, or basic human rights such as freedom from discrimination, protection from abuse, or obtaining essential human services such as food, healthcare and shelter.
2016 Awards
Distinguished Service Award: Adam Moore
Civic Leader Award: Luis Moscoso
2015 Awards
Distinguished Service Award: Professor Michelle Storms
Civic Leader Award: Larry Gossett & Bob Santos (joint award)
2014 Awards
Distinguished Service Award: Lembhard "Lem" Howell, Esq.
Civic Leader Award: Kathleen Taylor, Executive Director of the ACLU of Washington
Civic Leader Award: Washington United for Marriage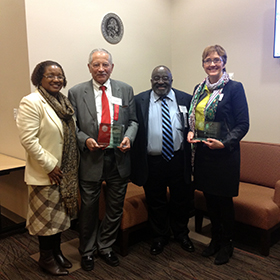 Left to right: Tracy Flood, former WSBA Board of Governors member and founding Chair of the Civil Rights Law Section; Lem Howell, Esq., 2014 Distinguished Service Award recipient; Alec Stephens, Civil Rights Law Section Chair; Kathleen Taylor, 2014 Civic Leader Award recipient and Executive Director of the ACLU of Washington
---
2015 Annual Meeting
The Civil Rights Law Section Executive Committee had its 2015 annual meeting on Jan. 23. The committee members are excited that the section is growing and look forward to making the section an effective voice for civil rights advocacy both within the Bar and in the community in 2016. Stay tuned for updates on upcoming CLE and other events, including a section happy hour where we hope to recruit new members as well as meet up with existing members.
The 2015 CLE covered the Voting Rights Act and was a great success. The CLE was streamed online and we had good participation online and at the event itself. Plans for a 2016 CLE are in the works. If you have any suggestions for topics, please drop us a line. At this point the EC is considering an all-day CLE in September with possible topics to include the ADA in its 25th year; guns; police misconduct; race relations and discipline at school; violence. As you can see, the Executive Committee is focusing on current societal issues that implicate civil rights concerns and legal questions relevant to membership.
The Section also supported a Washington State Voting Rights Act, which passed the House and Senate Rules Committee, but did not make it to the floor in the 2015 session. The Section actively promotes legislation that enhances civil rights as approved by the Board of Governors.
Section members should be receiving the Newsletter via email for more current section information. If you were a member last year but haven't received a copy, please let us know.
---
First Annual Meeting
On July 30, 2010, the Civil Rights Law Section held its first annual meeting in conjunction with the CLE program"Urgent Issues in Civil Rights: Human Trafficking, Immigration and Police Accountability" at Seattle University School of Law.
The Section elected officers to serve in 2010–2011. In addition to Sharon Payant, current chair-elect, who will serve as chair, other newly elected officers include Patricia Paul, chair-elect; Wilberforce Agyekum, secretary; and Michelle Raiford, treasurer.
Chair Tracy S. Flood and Chair-elect Sharon Payant presented awards to the Latina/o Bar Association of Washington (LBAW) and M. Lorena Gonzalez.
LBAW received the Civic Leader Award for their service and commitment to civil rights. Lorena received the Distinguished Service Award for her dedication to and leadership in civil rights law. Lorena also served as a panelist for the police accountability portion of the CLE, "Policing the Police." Every seat was filled for the event.
The association's purpose and mission is to represent the concerns and goals of Latino attorneys and to actively participate with the legal community in Washington state. M. Lorena Gonzalez of Schroeter, Goldmark & Bender is dedicated to representing people in employment matters, wage and hour class actions, police misconduct, and sexual assault cases.
---
Newsletters
June 2017 │ Winter 2015 │ Summer 2014
Archived issues are available to section members upon request. To request an issue, please email sections@wsba.org.
---
Executive Committee
Chair: Sarah Derry
Chair-Elect: Molly Matter
Secretary: Anne Paxton
Treasurer: Jill Mullins
Immediate Past Chair: La Rond Baker
Young Lawyer Liaison: Bryan Rome
BOG Liaison: Alec Stephens*
At-Large Members
*Non-voting member
Please contact subcommittee members for details on their upcoming meeting dates and locations.
For general questions, please email your inquiries to sections@wsba.org. To get involved with the Section and for more information, please contact the Section Chair, Sarah Derry.