Litigation Section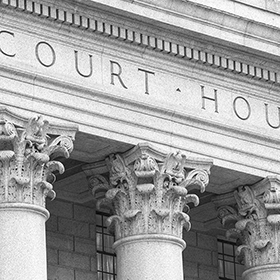 The Litigation Section strives to be the voice of civil litigators practicing in Washington state. The Section is involved in a wide range of activities that interest those who handle civil matters in superior or federal courts. Activities include review and formal input concerning legislation and rule making. The Section publishes a newsletter that keeps its members updated on current developments and events. To join the Section, click here.
The Litigation Section sponsors an annual midyear seminar, skills training, and an annual Executive Committee dinner meeting with the Washington Supreme Court.
Annual Report
Budget
Bylaws
Info Sheet
---
Litigation Section Executive Committee Elections to begin in May
Voting begins in early May.
Candidate Information, Open Positions & Terms
For more information about the Section and its Executive Committee roles, please review the Section's bylaws.
Chair-elect: one-year position beginning Oct. 1, 2018, and ending Sept. 30, 2019.
Candidate 1: Vincent Nappo
Secretary/ Treasurer: one-year position beginning Oct. 1, 2018, and ending Sept. 30, 2019.
Candidate 1: Michael Pfau
At-Large Members (two positions open): two-year terms beginning Oct. 1, 2018, and ending Sept. 30, 2020.
Candidate 1: Michelle Pham │ Candidate Statement
Candidate 2: Eric Gilman
Questions?
Feel free to contact any member of the current Section Executive Committee or email sections@wsba.org.
---
Executive Committee
Chair: Phil Havers
Chair-Elect: Greg Hesler
Secretary/Treasurer: Vinnie Nappo
Immediate Past Chair: Stephanie Bloomfield
Young Lawyer Liaison: Michelle Pham* (2016-2018)
BOG Liaison: Dan Bridges*
Committee Members
Joel Comfort (2018)
Michael Pfau (2018)
Daniel Berner (2019)
Susan Nelson (2019)
*Non-voting member
Please contact subcommittee member for details on their upcoming meeting dates and locations.
For more information and to get involved with the section, please contact Section Chair, Philip J. Havers. To join our list serve and for general questions, please send your email address and Bar number to sections@wsba.org.