Ana Cecilia Lopez Named Washington State Bar Association Local Hero for Whatcom County | Nov. 4, 2022
Bellingham, Wash., Nov. 4, 2022 — The Washington State Bar Association presented Ana Cecilia "Ceci" Lopez with the Local Hero Award to recognize her exceptional support of the Whatcom County community and her leadership and dedication as a legal educator.
The Local Hero Award is given to those who have made noteworthy contributions to their communities. WSBA President-Elect Hunter Abell and Executive Director Terra Nevitt presented the award during the Board of Governors meeting on Nov. 4, 2022. Lopez was nominated by the Whatcom County Bar Association.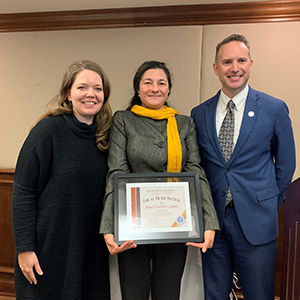 Lopez received a JD and LLM in Taxation from the University of Washington School of Law. After graduating from law school, Lopez received the prestigious Christin Brunswick Public Service Fellowship from the American Bar Association Section of Taxation. This two-year fellowship allowed her to provide free legal assistance to low-income taxpayers and microentrepreneurs who had issues with the IRS. Whatcom County bar member Adam Engst noted in his nomination that "Ceci helped everyone, no matter their ability to pay, which shows what a hero she is… she has a huge heart for doing the right thing and helping people."
Lopez is an assistant professor at Western Washington University's Fairhaven College of Interdisciplinary Studies. Engst further noted that "Ceci has revolutionized and expanded the Law, Diversity, and Justice program at Fairhaven College. I had the honor of being a mock trial judge in one of her classes… The students understood the law and asked me insightful questions about my practice, law school, representing minorities, and foreign language speakers—and it showed that Ceci had not only taught them a lot, she had inspired them to learn more and to keep learning."
Lopez is on the board of the Bellingham Co-Op, the ACLU of Seattle and is a Fellow at the Washington Leadership Institute. She also volunteers for LAW Advocates.
About the Washington State Bar Association
The WSBA operates under the delegated authority of the Washington Supreme Court and exercises a governmental function authorized by the Court to license and regulate the state's nearly 40,000 legal professionals, including lawyers, limited practice officers, and limited license legal technicians. The WSBA both regulates legal professionals under the authority of the Court and serves its members as a professional association — all without public funding. The WSBA administers the Bar admission process, including the bar exam; provides record-keeping and licensing functions; administers the lawyer discipline system; and provides continuing legal education for legal professionals, in addition to numerous other educational and member-service activities. The Bar's mission is to serve the public and its members, to ensure the integrity of the legal profession, and to champion justice.