Pro Bono and Public Service Volunteers
To deliver on the Washington State Bar Association's mission of serving the public and the members of the Bar, ensuring the integrity of the legal profession, and championing justice, the Bar seeks to enhance the culture of service and offer the following menu of pro bono and public service opportunities.
Serve veterans through the pledge or a Day of Service.
Take a housing, consumer or family law case at a reduced rate and help close the access to justice gap for moderate income households (200-400% Federal Poverty Level).
Pro Bono Portal
Washington has more than 70 organizations offering opportunities to give back to your communities. Check out our pro bono portal at probonowa.org to find and connect with pro bono opportunities across the state. By volunteering with a Qualified Legal Service Provider, you can earn MCLE credits by doing pro bono work. Click here to find a QLSP in your area.
Find out more about earning MCLE credit for volunteering, changing to Emeritus status, and RPC 6.1.
Pro Bono Organizations
The Bar partners with pro bono organizations to offer its members a menu of volunteer opportunities. If your pro bono organizations become a Qualified Legal Service Provider, you can offer your volunteers a number of benefits including free CLEs and MCLE credits. Learn how to become a Qualified Legal Service Provider (QLSP).
Find a Qualified Legal Service Provider near you with our directory.
The Bar is a member of the Alliance for Equal Justice, which is a network of Washington State organizations that work together in a collaborative way to coordinate strategy and delivery of civil legal aid to people and communities that experience poverty and injustice. Learn more about the Alliance or join.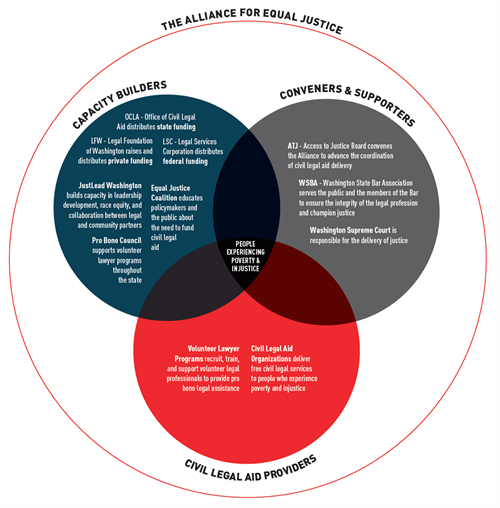 Become a QLSP
To become a Qualified Legal Service Provider, an organization must meet these five criteria:
Must be a not-for-profit legal services organization whose primary purpose is to provide legal services to low-income clients, per

APR 1(e)(8)

.

Must have a financial screening mechanism in place to ensure clients are low-income.
Must either provide malpractice insurance for volunteers or have a policy in place to require that all volunteers carry their own malpractice insurance.
Ensure volunteers receive at least two hours of relevant training.
Must be in Washington state or predominantly serve Washington state residents.
If your program meets the criteria, please submit a one page letter addressing how your organization qualifies and send to publicservice@wsba.org. for review. Including a program brochure or link to your organization is recommended.