Dispute Resolution Section
The WSBA Dispute Resolution Section promotes the informed use and best practices for all dispute resolution processes in Washington. Whether mediating, arbitrating or negotiating, every lawyer is a dispute resolution professional. The section is home to many attorneys who are also members of other sections.
The Dispute Resolution Section welcomes and encourages participation of all dispute resolution professionals. You don't have to be a lawyer or a member of WSBA. This is the community for all dispute resolution professionals: mediators, arbitrators, and lawyers representing and advising their clients.
The Section provides benefits to members by participating in legislative activities that relate to dispute resolution and undertakes projects aimed at increasing the availability and quality of dispute resolution services throughout the state. The Section also sponsors an annual meeting, and provides other dispute resolution educational programs, including co-sponsorship of the annual Northwest Dispute Resolution Conference.
Page Navigation
The Dispute Resolution Section offers many resources and benefits for members. On this page you will find information about the section, upcoming events, as well as information about the section's executive committee.
Section Information
What We Do
The Dispute Resolution Section connects professionals with relevant dispute resolution resources and information:
Educational presentations for both neutrals and advocates
Unsurpassed networking opportunities with other dispute resolution professionals
Cost-effective CLE credits in dispute resolution
How We Do It
The Dispute Resolution Section has an Executive Committee and five standing committees:
Click on any of the committee group pages above to learn more, see how they can help you in your dispute resolution practice and how you can get involved.
---
Save the Date, Spread the Word. Northwest DR Conference is Back!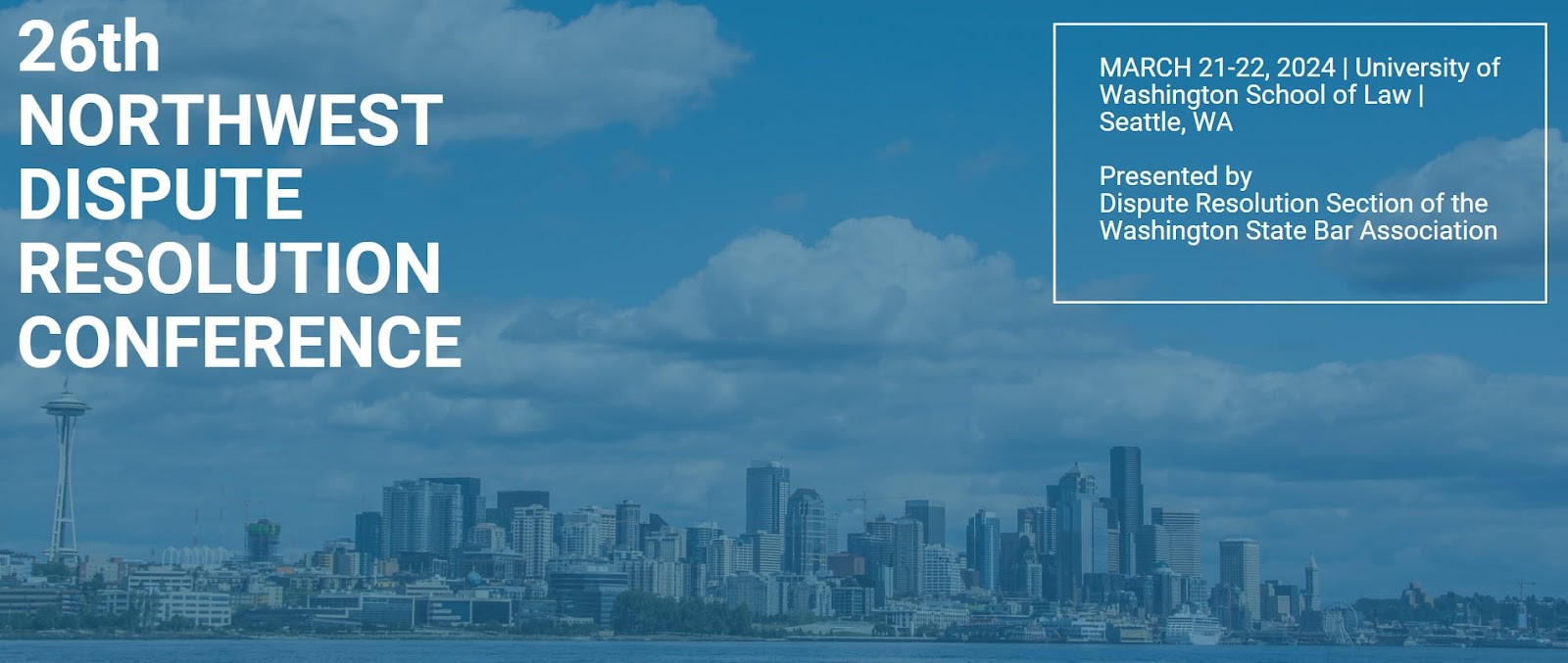 The planning committee is now accepting proposals for the 26th Northwest Dispute Resolution Conference, the premier event for conflict resolution practitioners in the Pacific Northwest. After a pandemic-induced hiatus, we're SO excited to be back. The NW Dispute Resolution Planning Committee is proud of the conference programming which draws a wide array of speakers and attendees to the conference. If you have suggestions for session themes or particular speakers, please e-mail: info@nwdrconference.org
The conference will be held on March 21-22, 2024, at the University of Washington School of Law in Seattle and we'll send a follow-up announcement as soon as registration becomes available. Whether you or someone you know are an experienced presenter or a newcomer, we welcome your proposal for a 75-minute or 90-minute session. The deadline for submissions is Nov. 15, 2023. For more information on how to submit your proposal, please visit the conference website here. We look forward to hearing from you!
---
Executive Committee
---
Executive Committee Meetings
The Dispute Resolution Section Executive Committee conducts meetings on the third Friday of each month, beginning at noon and concluding by 1:30 p.m.
Executive Committee meetings are currently being conducted by teleconference only. You may attend virtually by following this link to the Zoom Meeting, or by calling 253-215-8782 and using passcode 12345. Please contact committee members for any other details on their upcoming meetings.
---
Join Our List Serve
The DR Section list serve is a great way to connect with your fellow dispute resolution professionals. Members on the list serve are now able to post directly to the list serve. In order to foster a welcoming and productive environment, the DR Section Executive Committee has adopted general list serve guidelines and section-specific list serve guidelines. To join the section list serve and for general section questions, please send your email address and Bar number to sections@wsba.org. If you are a conflict resolution professional in Washington State who is not eligible to join WSBA, become a member of our Conflict Resolution Practitioners Discussion Group to keep up to date on section activities.