Indian Law Section
The Indian Law Section provides a forum for practitioners representing clients affected by Indian law. Federal, tribal, and state laws; executive and administrative actions; and court decisions produce a complex and rapidly evolving array of law that affects legal services. The Section schedules CLE programs on subjects that provide information to practitioners representing clients affected by Indian law. Section members also receive a newsletter highlighting recent developments in Indian law.
Annual Report
Budget
Bylaws
Info Sheet


---
Section Executive Committee Elections to begin in May
Voting is scheduled to begin on May 17, 2018.
A ballot was incorrectly sent via email on May 14th. Please disregard the email. For any questions, contact sections@wsba.org.
Candidate Information, Open Positions & Terms
For more information about the Section and its Executive Committee roles, please review the Section's bylaws. Candidates listed in alphabetical order by position.
Chair-Elect: One-year position beginning Oct. 1, 2018, and ending Sept. 30, 2019.
Candidate 1: Ann Tweedy
Secretary/Treasurer: One-year position beginning Oct. 1, 2018, and ending Sept. 30, 2019.
Candidate 1: Maryanne Mohan
At-Large Members: Three positions, three-year terms beginning Oct. 1, 2018, and ending Sept. 30, 2021.
Candidate 1: Amy Lettig
Candidate 2: Daniel Rey-Bear
Candidate 3: Jennifer Yogi
At-Large Members: One position, two-year term beginning Oct. 1, 2018, and ending Sept. 30, 2020.
Candidate 1: Felecia Shue
Questions?
Feel free to contact any member of the current Section Executive Committee or email sections@wsba.org.
---
Submissions Welcome – Indian Law Section Newsletter
If you are interested in submitting an article or items for "Indian Lawyers in the News" for the spring 2018 edition of the Indian Law Newsletter, please call or email 206.321.2672 or anthony@galandabroadman.com.
Submissions are due Monday, March 12, 2018.
Indian Legal Scholars Program
Over the past few years, the WSBA Indian Law Section and its sister group, the Northwest Indian Bar Association, have joined together to create the Indian Legal Scholars Program. Together, these entities have raised and contributed over $100,000 in scholarships to aspiring Indian lawyers from Washington, Oregon, Idaho, and Alaska. In 2004, the American Bar Association recognized the program with its "Solo and Small Firm Project Award."

The program's goal of nourishing future Indian lawyers is of particular importance when considered against statewide and national research findings. Indians are by far the most under-represented ethnic demographic in the legal profession. Indian attorneys comprise a fraction of 1% of Washington state's 29,000 licensed attorneys. Nationally, of the 1 million practicing lawyers in the U.S. and the 4.1 million people who identify themselves as Native American, there are only 1,700 indigenous practitioners (2000 Census).

The scholarship funds come from membership dues and generous charitable grants from the Chehalis, Jamestown S'Klallam, Lummi, Muckleshoot, Port Gamble S'Klallam, Puyallup, Squaxin Island, Suquamish, Swinomish, and Tulalip tribes.
Stipends to Prepare for the Bar Exam
As one of the program's valuable offerings, the WSBA Indian Law Section and the Northwest Indian Bar Association each year match fiscal resources to provide stipends to several Indian students preparing for the summer bar exam. Beginning with the 2010 winter bar exam and for the first time, stipends were awarded to students preparing for the winter bar exam.
For questions about the Indian Legal Scholars Program or its bar exam stipends, please contact Gabe Galanda at 206-628-2780 or ggalanda@williamskastner.com.
The 30th Annual Indian Law Section Seminar - Looking Back, Moving Forward: Hot Topics in Indian Law
click here for more information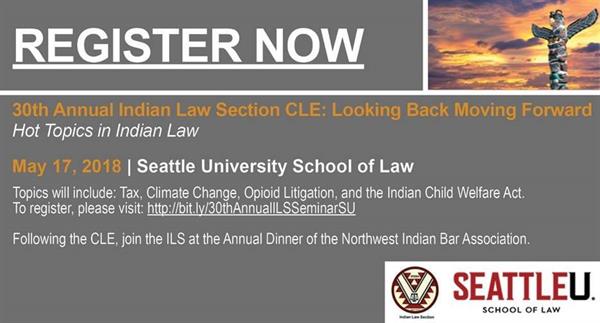 Newsletters
Spring 2017
Summer 2016
Fall 2015
Spring 2015

Archived issues are available to section members upon request. To request an issue, please email sections@wsba.org.
---
Executive Committee
Chair: Claire Newman
Chair-Elect: Brie Coyle-Jones
Secretary/Treasurer: Ann Tweedy
Immediate Past Chair: Diana Bob
Newsletter Editor: Anthony Broadman*
Young Lawyer Liaison: Vacant
BOG Liaison: Angela Hayes*
Trustees
Rebecca Jackson (2018)
Lauren Rasmussen (2018)
Rachel Saimons (2018)
Brook Pinkham (2020)
Mary Neil (2020)
Juliana Repp (2020)
Tom Schlosser (2019)
Lori Guevara (2019)
Mayanne Mohan (2019)
*Non-voting member
Please contact subcommittee member for details on their upcoming meeting dates and locations.
To join the Section list serve and for general Section questions, please send your email address and Bar number to sections@wsba.org. For more information and to get involved with the Section, please contact Section Chair Claire Newman.