International Practice Section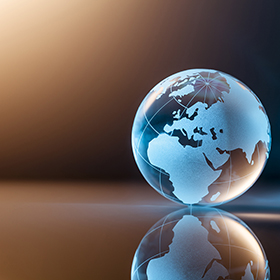 The International Practice Section was founded in 1984. This section has a broad focus that includes not only the study of current developments in the field of international law but also immigration law, international transactional work, and international litigation or arbitration. Members represent a wide variety of backgrounds and practices, including full-time and part-time practitioners, government, business, foreign lawyers, academia, internationally-focused law students, and those simply intellectually interested. Member benefits include a quarterly e-newsletter, monthly mini-CLEs free for members, and annual receptions for both foreign lawyers and law students.
Annual Report
Budget
Bylaws
Info Sheet
---
Section Executive Committee Elections to begin in May
Voting is scheduled in early May, 2018
Candidate Information, Open Positions & Terms
For more information about the Section and its Executive Committee roles, please review the Section's bylaws.
Chair-elect: one-year position beginning Oct. 1, 2018, and ending Sept. 30, 2019.
Candidate 1: Leonid Kisselev
Secretary/Treasurer: one-year position beginning Oct. 1, 2018, and ending Sept. 30, 2019.
No candidates at this time
Communications Chair: one-year position beginning Oct. 1, 2018, and ending Sept. 30, 2019.
Candidate 1: Elly Baxter
At-Large Member (3 open positions): three-year term beginning Oct. 1, 2018, and ending Sept. 30, 2021.
Candidate 1: Linda Chu
Candidate 2: Qingqing Miao
Candidate 3: Jenny Salomon
Questions? Want to Learn More?
Feel free to contact any member of the current Section Executive Committee or email sections@wsba.org.
Member Benefits
Membership of the International Practice Section continues to grow. The cost of membership is small compared to the benefits of membership.
Benefits include, but are not limited to, informative e-newsletters, meetings with other individuals interested in this area, presentations by speakers with excellent, timely information, and receptions for lawyers and law students. The benefits of membership are outlined in more detail immediately below.
Events
The International Section has continued to grow in numbers and events and currently we have three yearly events that are open to all section members.
Visiting lawyers' reception. This is an excellent event that pairs visiting lawyers attending programs at local universities with local lawyers. The attorneys meet at a reception hosted by a section law firm. This event is usually held in late October.
Law student reception. This is an outreach event held for all students interested in international practice. This event provides law students the opportunity to meet with practicing attorneys and to join and become active in the section while still in school.
Annual meeting. The annual meeting is open to all section members and is held mid-summer. At this meeting, board members are nominated and elected, yearly business is conducted, and members mingle, network, and reconnect.
CLEs
Over the years, the Section has put on many excellent full and half day CLEs. Currently, the Section hosts monthly mid-day CLEs. The speakers are excellent, the topics are lively, usually 1 CLE credit is approved and, best of all, it is free to Section members. Watch your e-mail for notification and sign up early, because space is limited.
The Global Gavel E-Newsletter and Website Blog
Our big-picture goal with the online e-newsletter and website blog is to bring us together as a section and to provide another communication resource to help us build better practices and relationships. Don't forget to bookmark our section news website (a link to this site is located on this webpage) and visit it frequently for the latest section updates that take place in between the quarterly e-newsletter editions.
Opportunities
Got a job posting/work study position for a law student? Want to hire a junior attorney for an entry-level associate position? Looking for a senior attorney with a book of business and partnership potential? Contact the editor-in-chief of The Global Gavel at eic@globalgavelnews.org. (Note that the International Practice Section of the WSBA does not, in any manner whatsoever, make any representations or affirmations as to these individuals' credentials, abilities, or legal right to accept employment in the U.S.).
Committees
E-Newsletter, The Global Gavel

Law Students/Young Lawyers
Doing Business in Washington
Foreign Lawyers
CLE Programs
International Outreach
Executive Committee
Chair: Matthew Dresden
Chair-Elect: Holly Vance
Secretary/Treasurer: Leonid Kisselev
Immediate Past Chair: Bernard Shen
Communications Chair: Eriko "Elly" Baxter
Young Lawyer Liaison: Monica Sham*
BOG Liaison: Paul Swegle*
Committee Members
Prof. Dana Raigrodski (2017-2020)
Megan Fouty Lutes (2017-2020)
Larry Ward (2017-2020)
Chris Pothering (2017-2020)
Joe Stockton (2017-2020)
QingQing Miao (2017-2020)
Joaquin Hernandez (2015-2018)
Linda Chu (2015-2018)
Francisco Olmedo (2016-2019)
Carly Chan (2016-2019)
*Non-voting member
Please contact subcommittee member for details on their upcoming meeting dates and locations.
To join the section list serve and for general section questions, please send your email address and Bar number to sections@wsba.org. For more information and to get involved with the section, please contact the section chair, Matthew Dresden.