Remembering Two WSBA Presidents
by WSBA
The Board of Governors called for a moment of silence at its September meeting to remember the contributions to the Bar and the legal community of two former WSBA presidents who recently passed away. Bill Hyslop and Jan Peterson are remembered as exemplary lawyers, leaders, and friends.
Jan Eric Peterson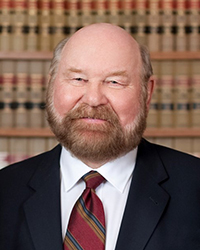 Jan died peacefully at home Aug. 17, leaving a legacy as a champion of justice. He was 78. He served as WSBA President in 2000-2001, proclaiming his mantra "Proud to Be a Lawyer" and uniting colleagues across the state.
A skilled trial lawyer and celebrated leader, he served as the president of the Washington State Trial Lawyers Association, the Damage Attorneys Round Table, and the Washington State Association for Justice, in addition to WSBA. The Seattle native was an enthusiastic honoree at the WSBA's 50-Year Member Luncheon. He spent five decades as a lawyer, in service to his clients and the profession.
Jan started his career as staff counsel for the ACLU of Washington State and OEO Legal Services before entering private practice in 1972. He was proud of his work for the ACLU including his successful effort in Struck v. Secretary of Defense (1971), an equal-protection challenge to an Air Force regulation that required pregnant women officers be discharged from service. The government ultimately changed its policy.
He was a partner at the law firm Peterson Wampold Rosato Feldman Luna, which he co-founded in 1973. He received the 1999 Trial Lawyer of the Year award and was listed in Best Lawyers in America.
A celebration of Jan's life will be held Oct. 22. For additional details please email JEPcelebration@gmail.com.
William D. Hyslop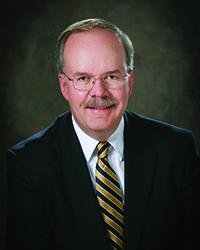 Bill remains WSBA's longest-serving immediate past president, holding the office from 2016 to 2018. He was the Bar's president 2015-2016. His significant support of WSBA leadership was twice recognized with a President's Award, in 2006 and, along with wife Deborah, in 2019. He died Sept. 11 from an unexpected health complication. He was 71.
A native of Spokane, Bill is the only person to serve two separate terms as the United States Attorney for Eastern Washington in 1991 and in 2019. He was a principal at the law firm of Lukins and Annis in Spokane where he practiced law for more than 40 years. He earned a master's degree from the University of Washington and his law degree from Gonzaga University in 1980.
After retiring as a U.S. attorney last February, Bill did not waver from his commitment to his community. He was a founding board member of the Spokane Alliance for Fentanyl Education (SAFE) and continued his role to tackle the opioid epidemic in Eastern Washington.
A Celebration of Life for Bill is planned for First Presbyterian Church at 1 p.m. Saturday, Oct. 8, with a reception to follow. His wife Deborah requests that remembrances or cards go through WSBA Communications Director Sara Niegowski at SaraN@wsba.org, or by post:
Washington State Bar Association
1325 Fourth Ave., Suite 600
Seattle, WA 98101-2539