The 2018 APEX Awards
WSBA is proud to announce this year's lineup of outstanding APEX Award winners. APEX stands for Acknowledging Professional Excellence. The awards honor legal luminaries across the state who champion justice, act with integrity and professionalism, and serve the public and their communities through the rule of law.
APEX Award Categories and Descriptions
The 2018 APEX Awards were presented at a ceremony and dinner on Sept. 27 at the Sheraton Hotel in downtown Seattle.
View a gallery of photos from the event.
Meet the Recipients of the 2018 APEX Awards
Angelo Petruss Award for Lawyers in Government Service
Leslie E. Reardanz III. Capt. Les Reardanz III is a U.S. Navy Reserve JAG (currently deployed in Afghanistan in support of Rule of Law operations) and CEO of the Port of Everett. He seamlessly integrates his family, professional, and military lives with utmost professionalism and grace.
Award of Merit
Spokane Community Court. The Spokane Community Court seeks to reduce and properly address quality of life offenses in downtown Spokane by utilizing a collaborative, problem-solving approach to crime.
Justice Charles Z. Smith Excellence in Diversity Award
Hon. Bonnie J. Glenn. Judge Glenn has spent her entire career advancing diversity in the legal profession, including having led the Justice Commission's Workforce Diversity Committee for over a decade.
Legal Innovation Award
Project Safety. Project Safety is a collaboration between six King County agencies with a goal to provide crime victims with legal assistance to resolve civil legal issues and help victims stabilize their lives.
Lifetime Service Award
Milton G. Rowland. Attorney Milton Rowland has practiced civil litigation for more than 30 years, and perhaps his most enduring legacy will be as Law Professor at Gonzaga and serving as a resource for the substance-abuse issues facing the legal profession.
Norm Maleng Leadership Award
Joan Kleinberg. Joan Kleinberg's career in civil litigation spans 40 years, and she is recognized as the creator of the phone line at the core of the state's centralized legal intake/delivery system and a developer of the case management system adopted by all state civil-legal aid providers.
Outstanding Judge Award
Hon. Bruce A. Spanner. Judge Spanner presides in Superior Court in Benton and Franklin Counties, where he is devoted to equal justice under the law without passion or prejudices and deeply involved in his community.
Outstanding Young Lawyer Award
Annalise Martucci. In just a few short years, Annalise Martucci has become an active member of the bar in Whatcom and Skagit counties, volunteering with the Whatcom Street Law program and the Skagit County Chapter of Washington Women Lawyers, among many other leadership and volunteer positions.
Pro Bono and Public Service Award (Individual)
Edwardo "Eddie" Morfin. Eddie Morfin practices personal injury law and provides many pro bono services to clients; in addition he has volunteered with the Latino/a Bar Association's legal clinics, Northwest Justice Project, Northwest Immigrant Rights Project, and Washington State Commission on Hispanic Affairs.
Pro Bono and Public Service Award (Group)
Law Offices of Carol L. Edward. This four-person firm in Mount Vernon and Seattle was instrumental in developing DACA clinics to provide clients with information about and review of immigration documents.
Professionalism Award
Mark Johnson. Mark Johnson is committed to making our profession better by making lawyers better; he has served in many statewide leadership positions, provides widely attended CLEs about professionalism, and is a trustee for the Legal Foundation of Washington.
---
Photo Gallery
Capt. John Kenny and WSBA Governor Michael Cherry
Oct 9, 2018, 14:10 PM by Noel Brady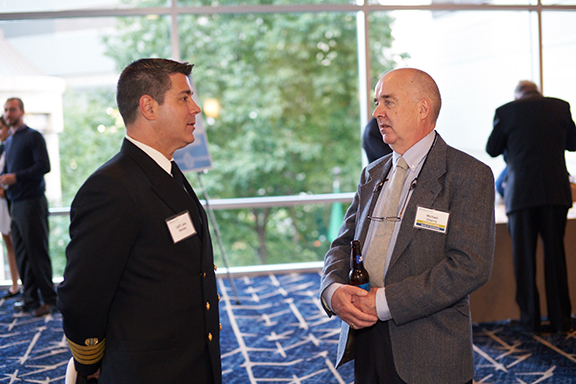 Back to all images